Being in nature is one of life's greatest pleasures. There is little, if anything, that gives us the same feeling of freedom and being alive. Nature holds plenty of challenges and experiences for all of us if we just take care of it. It is our joint responsibility.
Brynje of Norway is a small family business with a big goal – to deliver clothing that gives people the opportunity to experience nature, without it being at the expense of it. We were one of the first Norwegian producers to join Green Dot, and we recently were cited among the most environmentally friendly outdoor supplier of Future in Our Hands. We are proud of this.
To save the environment, we want all our products to have longevity. We offer repair of damaged goods and are actively working to improve the durability of our products. We are very happy when customers tell that they have benefited from their Brynje products for over 10 years. We work hard to ensure that the garment from Brynje will be as sustainable as possible and that animal welfare is safeguarded. It is important to us that our carbon footprint is as small as possible, so that we and everyone else can enjoy nature in the future.
Since 1887 we have been supplying products with a focus on quality, functionality and durability. Our innovation never stops, and we see it as our duty to continue our efforts in an environmentally sustainable way.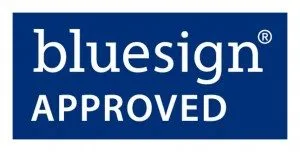 Brynje is proud to be bluesign® certified.
The bluesign® standard is an independent industry initiative that was released in 2000 in response to the demand for environmentally friendly textile products. The standard was developed and is kept up-to-date by bluesign technologies® AG. bluesign® also offers support services to the textile industry for implementation of the standard and thus has a double role.
bluesign technologies® AG's goal is that products used in the fabrication and finishing of natural and synthetic fibres be solely those which have met the strictest criteria worldwide and whose producers have subsequently been audited by bluesign. bluesign technologies AG screens entire production processes and issues recommendations for fully equivalent but harmless ingredients as an alternative.
The standard is built around five principles: resource productivity, consumer safety, air emission, water emission and occupational health and safety. The bluesign® standard is a holistic approach that takes all of the above aspects into consideration.